Welcome to the Farmington Seventh-day Adventist church website! We are a diverse church family dedicated to spreading the gospel of Jesus Christ as we enhance our church and embrace our community in Christian love.
We invite you to explore our website, and visit us in the near future; we would love to meet you! We are located on Ten Mile Road between Orchard Lake and Middlebelt Roads.
See you soon!!!
Pastor Darryl Bentley
Recent Sermon Podcast
Good FISHERMAN
What did Jesus Christ mean when He told Simon and Andrew that He will make them fishers of men?  Do you see yourself as a fisher of men?  Do you feel impressed to share your faith to influence people for the kingdom of God,  or do you feel like you are going through the motions or just maintaining?  Sometimes in the process, we get distracted.  Pastor Penrod addresses these questions from the Word of God.
Key Scriptures: Mark 1:16-18; Luke 9:1-2; Luke 9:43-46; John 21;
The Exalting Pictures of Jesus
Pastor Dwayne Toppenberg presents pictures of Jesus from the Book of Revelation and stresses the importance of spending daily time in the Word.
Key Scriptures: Rev. 1:1, 10, 12-18; Isaiah 52:7; Rev. 4:1-10; Rev. 5:1-13; Rev. 7:9, 10, 17; Rev. 10:1-7; Rev. 11:15; Rev. 14:1, 14; Rev. 17:12, 14; Rev. 19:1, 11, 12, 16
Circumcision of the Heart
What does circumcision mean in spiritual terms? Jared Oluoch explains  the connection between having a relationship with God and keeping His law.
Key Scriptures: Genesis 12:1–3; Romans 4:12; Ephesians 5:25; 1 Peter 3:7; Genesis 17:10, 11; Genesis 21:1; Genesis 25:26; Genesis 15:18; Deuteronomy 30:6; Jeremiah 4:4; Deuteronomy 10:16; Matthew 18:3; Matthew 7:21; John 4:22; Romans 2:28, 29
Killing the Prophets
In ancient times, God's people killed and crucified the prophets He sent to help and warn them. Are we in danger of doing the same today?
Key Scriptures: Genesis 4:3–8; 1 Kings 18:15–18; 2 Chronicles 24:15–22; Matthew 23:29–39
If You Can Believe
What should you do when you're feeling unworthy of God's grace, forgiveness, and love? Pastor Penrod shares several stories that answer this question.
Key Scriptures: Luke 7:1–7; Matthew 8:13; Mark 9:20–24; John 6:37; 1 John 4:9,10; Luke 23:38–42; Ephesians 2:4–10
Shields of Brass (YOUTUBE VIDEO)
Key Scripture: 1 Kings 10:1-2,10-12,14-18; 1 Kings 14:21-28; Philippians 3:1-11;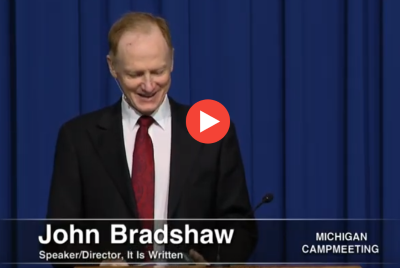 Pentecost Repeated (YOUTUBE VIDEO)
Key Scripture:Mathew 24:4,42,44; 1 Thessalonians 5:3-4; Revelation 18;1-10,17; Revelation 4:11; Revelation 5:12; Revelation 19:1;
Rise
It is important to periodically revisit the biblical pillars of our faith.  In today's message, Bamiji Ibironke reminds us that exercising faith in the promises of God is critical because, without faith, it is impossible to please God.
Key Scriptures: John 5:1-9;
Recent UPDATES